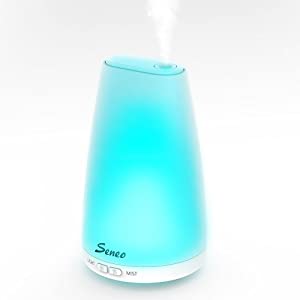 Our Rating: 5 out of 5 stars
The new Seneo 100mL (3.38 ounces) cool-mist ultrasonic diffuser is Seneo's latest model with a larger water tank and 16,000,000 gradient color lights! Actually, the long-life LED lights do change in 7 cascading colors that are romantic and soothing. The unit is tall and slim at the top. It is made of a matt finish in PP (Polypropylene) plastic and it is bisphenol A-free (BPA). The essential oils (not included) will not leach into the diffuser. The unit will cover about 200-square feet and will run from 3-5 hours depending on the intensity level you set it for. Faster diffusing means using more oils in less time. You can use tap water, but that will put minerals and lime scale on the inside of your diffuser requiring more frequent cleaning. Distilled or purified water is best at only about $1 per gallon at any store. Speaking of cleaning, a little rubbing alcohol, or clear distilled vinegar with water in the reservoir running about 10 minutes should clean your diffuser completely. Rinse and towel dry, and you're ready to go again. Never leave water with oil in your diffuser; it will grow mold and you do not want to breathe that.
The 5-mode diffuser can be used as a small humidifier, an air purifier, an ionizer, and a night light. Operate it without or with oils, such as eucalyptus, for a sick baby with a cold, so that the moist mist reaches the baby's nose. It is whisper-quiet and will not keep children or you awake when sleeping.
Bergamot is pressed from bitter orange peels and uplifts your mood when you're stuck on the sofa. Neroli from the bitter orange flower provides comfort as does Jasmine flower essential oil. Mild depression can be gone when using these essential oils in the Seneo diffuser.
Try German and Roman chamomile when you feel irritated, moody, depressed, or anxious. Chamomile is earthy and will ground you and you will feel your mood elevate to an inspirational level. Have a cup of caffeine-free chamomile tea while enjoying your aromatherapy essential oils.
The Seneo diffuser is very light to take with you to the office, use in a Yoga studio, hair or nail salon, massage or physical therapy area, and your hotel room when traveling. Keep one in the kitchen, living room, bathroom, and bedrooms. Use the water cup to fill the water reservoir only to the max line and know that the unit will automatically shut off when the water is gone. You will have no worries about the diffuser burning out with this safety feature.
The 'light' button will change the colors to cascade from one to another. Press it again and it will stay at your favorite color, and one more press turns the light off. They are bright and fun to look at. The 'mist' button lets you choose a medium mist with the green light and the red light is for a larger mist. You can have no lights with mist or no mist with lights.
Plug the 5-foot UL listed cord into a USA 110/120-Volt, 50/60 Hz outlet or 220/240-Volt outlet in countries outside the USA. The power is 11-Watts and that is less than a 40-Watt light bulb for energy usage. The D/C output is 24-Volts at 0.65-Amps. The ultrasonic frequency is 2.4 MHz. There is no D/C adapter or USB port plug included with the diffuser.
The diffuser is 7-inches tall and 4-inches in diameter. The bottom turns to the right to plug the cord into the bottom and it has a holder so that the cord sits flat on the bottom. The 3 rubber feet on the bottom keep the diffuser steady so that it will not slide.
Use your essential oils with the cool-mist diffuser for dry chapped lips, congested nasal and sinus passages, dry cough, and dry hair.
Gift-wrapping is available for a loved one or friend. A detailed with graphics User's Manual is included with an A/C adapter and a water-measuring cup. If you have a defective unit, Seneo will replace it or refund your money.
Check Prices on Amazon